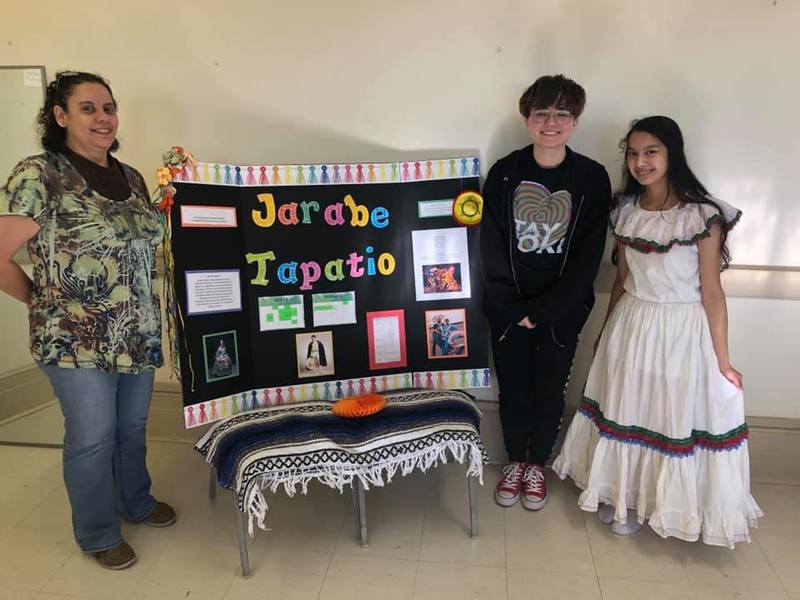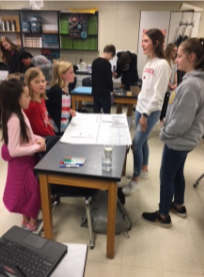 A shared vision of what a high-performing school is and does drives every facet of school change. SMS supports the tenets outlined in the book, Turning Points. Turning Points presented the following eight major recommendations needed to improve the education of young adolescents (1) create small communities for learning, (2) teach a core academic program, (3) ensure success for all students, (4) empower teachers and administrators to make decisions about the experiences of middle grade students, (5) staff middle grade schools with teachers who are experts at teaching young adolescents, (6) improve academic performance through fostering the health and fitness of young adolescents, (7) re-engage families in the education of young adolescents, and (8) connect schools with communities. Springdale School District strives to create a learning environment, within the middle level, that embodies the aforementioned principles stated in Turning Points. All middle schools, within SPS, have an organizational structure that allows for district wide, strategic use, of teaming/integration for two plans for core teachers.
SMS's vision promotes the essential attributes of developmental responsiveness to student's needs, challenges every student to reach their full potential, empowers students to take control of their lives and provides equitable learning opportunities for all students. One organizational structure implemented at SMS that supports the middle level philosophy is the development of SMS houses. The premise of the house philosophy is that each house will create their own identity. Each house is comprised of three advisory classes. For the majority of a student's day, students are in the three classes belonging to their house. Each student is assigned to an advisory teacher. Students begin each day in the advisory classroom for 40 minutes. During the 2015-16 school year, a voluntary Advisory Committee began the ongoing work of revising the SMS advisory program to promote a growth mindset with essential guiding principles embedded within the lessons. The advisory teacher is an advocate for each child in his/her homebase. Often middle schooler's need additional supports, guidance or services to help them thrive. The SOS Committee was developed to help support students in need. Students are referred to the SOS committee for various concerns. Some concerns are academic (student may need remediation or acceleration), behavior, language, social, emotional support. The committee gathers pertinent data, makes recommendations and/or coordinates services for the student.
SMS strives to build support systems that are developmentally responsive to all the needs of the students. The goal of the organizational structure is to support each child's unique needs through the various committees. One support system is the Instructional Leadership Team. This 18 member committee includes the site administrators, instructional facilitators, and team leaders. This committee meets bi-monthly in order to focus professional learning, conduct research, and align resources. This site-based management team establishes procedures through which the entire staff may participate in the development, implementation, and enforcement of building procedures, rules, regulations (including safety).
The Parent and Student Involvement Committee is another essential support system for our school. This organization meets monthly and plans family/community and school activities. The committee works to promote and showcase student success. The SMS Social Committee coordinates events for the staff members. Events include staff member celebrations (retirements, births, marriage) or support services for staff members sickness/illness, death in the family, etc. Student Council is the student elected representatives for each grade. Student council officers serve on pertinent SMS committees (Parent and Student Involvement, Leadership Team). Each advisory team is represented with three from each house serving on Student Council. Joint Council is a district curriculum committee that meets on the 3rd Tuesday of the month to coordinate curriculum alignment issues. SMS has two representatives on the Joint Council.
Consensus building is essential to professional growth. As a School of Innovation, SMS staff members have the autonomy to decide the appropriate curriculum for students that is rigorous and relevant. Through the PLC process, staff members have a personal plan each day and a disciplinary or house team PLC plan each day. During team time, teachers meet weekly in grade level planning meetings to discuss student needs, concerns, make parent contacts, plan house initiatives and refer students for RTI, SOS, etc. Teachers meet 3-4 times a week in disciplinary teams to analyze student data, unpack the standards, write curriculum, establish goals, learn from book studies, etc. One example where teachers have exercised control over the curricular goals is the implementation of project-based learning. An essential part of the SMS application for SOI status was the implementation of project based learning with subject integration. SMS's innovative practice of project based learning includes inquiry based launches from driving questions. Teachers use the state standards as a guide for the student learning expectations, but they make the curriculum decisions about what content is taught and how it is delivered. SMS teachers understand how important it is to provide curriculum that is challenging, explorative and connected to the real world.
SMS and SPS devote resources to content-rich professional development, which is connected to reaching and sustaining the school vision and increasing student achievement. Staff development is an integral component of SMS. SMS trains and supports both new and experienced educators. One of the primary focus areas is to continuously strengthen knowledge and understanding of the middle school philosophy and characteristics of the middle school child. SMS's professional development focus is to be innovative in practices while remaining student centered. A major learning goal in most professional development is to ensure all students are provided with the tools and resources to achieve his/her own personal excellence in academics and life.
The staff at SMS has been involved in continuous professional development in the 16 characteristics of successful middle grade schools described in This We Believe: Keys to Educating Young Adolescents. Literacy teachers have received extensive training in reading and writing units developed by Lucy Calkins, while math teachers have trained in Number Talks, Thinking Mathematically (designed specifically for grades 6-8), Stanford's Online Course, and "How to Learn Math" with Jo Boaler. Science and Social Studies teachers attended the Project Based Learning Institute to gain a better understanding of the PBL model and how to provide more authentic learning experiences and assessments that are rigorous and relevant to today's global learners. The physical education department participated in the Action Based Learning Lab (ABL), a program based on the brain research that supports how movement improves brain function, and has become a leader and model lab in the state. Constructing Meaning, GANAG Instructional Model, Hattie's Research, DOK Questioning, RTI, Gradual Release Model, Google Training, Technology in the Classroom, Innovation Institution, and Interactive Notebooking are several other staff development opportunities that have enabled teachers to grow in their daily instructional practices in order to meet the needs of the students.
In meeting students' physical needs, the physical education department has disseminated ABL Lab information to all faculty members. Teachers are able to incorporate the lab and other equipment around the building to help impact student learning and retention, as well as attending to their active nature. Teachers have been trained to provide Brain Break activities such as Go Noodle and Brain Smart Start along with classroom instruction. The counselors, nurse, library media specialist, 504 Coordinator, and Special Education team work closely with administrators and faculty members to ensure SMS is staffed with teachers who are experts at teaching young adolescents and understand the specific needs middle level students have. Suicide prevention, bully prevention, internet safety and awareness, SPED/504/RTI are trainings provided to staff members periodically.
To ensure ongoing professional development reflects the student needs, needs assessments are conducted each year. Faculty members attended the PLC Institute and learned how to use data effectively to make instructional decisions. SMS supports learning from each other, so teachers must spend time in each others classrooms as part of the learning process (Project Plan It and Literacy Demonstration Classrooms). Through the PLC process teachers receive job-embedded professional develop relevant to their specific content.
The faculty at SMS actively seeks to learn from other middle schools, but also hosts many site visits from area schools eager to learn from the innovative practices at SMS. Members of the SMS faculty have presented at the district, state, and national level. SMS is a demonstration site for Lucy Calkin's Units of Study, Thinking Mathematically, Constructing Meaning, Project PLAN IT, and an Arkansas School of Innovation. Schools from all over the state and region have visited SMS to gain a better understanding of how to implement these core academic programs with their students and teachers. SMS works to create partnerships within the community and with other learning institutions. Partnerships include: The University of Arkansas, Missouri State University, Northwest Technical Institute, Delta Kappa Gamma Society and various community sponsors (Camp War Eagle, Samaritan House, Cross Church, Tyson Foods, Harps, Lewis & Clark, Palen Music, Appleseeds). Delta Kappa Gamma Society partnered with SMS to provide an Engineering Awareness Program for girls to expose them to STEM concepts through fun, hands-on learning experiences.
SMS has a variety of resources and systems in place to facilitate progress monitoring. These resources and systems include ACT Aspire interim assessments, MAP, ELPA, ACT Aspire, reading and writing progressions, weekly progress reporting through advisory, formal progress reporting across all academic disciplines sent home every three weeks, and progress monitoring weekly through PLC.
At SMS the faculty and support staff work diligently to create an atmosphere that supports the needs of its student population. Students attending SMS participate in a variety of programs designed to improve students social and academic skills. These programs include English Language Development, project-based learning curriculum design, advisory, Action Based Learning Lab, Primetime, Literacy Learning Intervention (LLI), Gifted and Talented, SMS Man Up, Mentoring Program, and Sheltered English Language Instruction. At SMS, we believe the vast body of research that supports heterogeneous grouping in educational settings. It is this belief that pushed SMS towards scheduling students on an individual needs basis. SMS has a high sub-population of English Language Learners at about 55%. Students designated as Language Learners are provided with a variety of support based on level of need. Teachers at SMS were trained in Constructing Meaning to provide maximum language support for students in heterogeneous classrooms. This type of support is seen in science, math and social studies classes. Students with less time in the country and lower English skills are given explicit English instruction in their systematic English Language Development (ELD) class. Students newest to the country and with the lowest English proficiency are placed in Sheltered classes. Although placed in heterogeneous core classes, these students have the added benefit of an ESL co-teacher in the room and specific time to work on language acquisition.
SMS works in coordination with District personnel to attract and recruit and retain high quality teachers. Partnerships with local universities have been established, with interns from the University of Arkansas and the University of Central Arkansas being assigned to SMS. Novice teachers are assigned mentor teachers through the school district mentoring system and the ADE mentoring support systems. Springdale School District is active at job fairs and recruitment efforts, both in and out of state. One of SMS's and Springdale District's highest priorities is to recruit minority professionals that is more representative of the district's student population. SMS was honored to add to the professional diversity by hiring the first Marshallese teacher in the district this school year. This year, SMS hired a Marshallese basketball coach/P.E. teacher, an African American speech pathologist and a bilingual Math teacher who was a former Springdale graduate who was born in Mexico.
SMS connects with the community in many ways. One of the newest partnerships is with Northwest Arkansas Technical Institute to provide English classes and daycare services at SMS for students' parents through the Springdale Family Literacy Program. SMS also works with outside service agencies such as Youth Bridge and Ozark Guidance to support families. Both agencies provide on site individual and family counseling and therapy. Youth Bridge also provides after school activities that promote social and emotional growth with adolescents.